This section is: Web.
Web design and development portfolio
Please take a minute to inspect these samples of Savvy Web Design's previous web design and development work. As a general rule, the more recent examples are nearer the top. The copyright in the content is the property of the respective owners of each site.
If you click any of the links, they'll open in new windows. Close those windows when you've finished browsing and you'll be back at this page.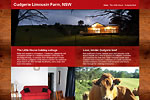 Cudgerie Limousin Farm
Cudgerie Limousin Farm operates a luxurious farmstay cottage called The Little House, 4 hours from Sydney. This website offers details, photos, a map and online payment for bookings. The website also promotes the premium Limousin beef produced by the farm and available in the Manning Valley.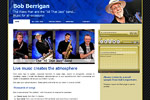 Bob Berrigan
The online home of musical entertainer Bob Berrigan and his band All That Jazz. The website features integrated players to allow visitors to listen to music clips. As well as extensive text information, the site includes booking and contact forms and a blog. While it's a custom visual design, the website uses the Wordpress engine, allowing the owner to add and change content easily.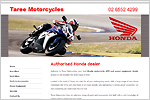 Taree Motorcycles
The Honda Dealership in Taree on the mid north coast of NSW uses this web site as a contact point with customers. The owner can make changes to the website, including updating lists of used motorcycles and specials.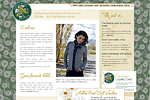 Ashlea Road Boutique
This website for a fashion retail outlet includes a news section with headlines displayed on the home page, and online signups for an email newsletter. Plus the usual brochure website elements like product overviews and store location map. While it's a unique custom design, the website uses the Wordpress engine, allowing the owner to add and change content easily.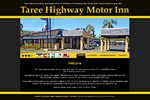 Taree Highway Motor Inn
This brochure website for the Taree Highway Motor Inn includes photographs and descriptions of room types, a map and an enquiry form. Its visual design was a collaboration with the motel's owners. The website incorporates CMS functionality to allow the owners to make updates easily. The web presence it establishes is vital in a very competitive service industry.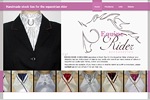 Equine Rider Accessories
Equine Rider Accessories creates stock ties for equestrian riders. The custom-designed website is a basic e-commerce setup for online purchasing. The owner is able to make changes to the website, including adding new products.
Yvonne Ramsay
Australian contemporary artist Yvonne Ramsay's website offers an online gallery and a biography of the artist. The owner is able to make changes and updates to the website. The website takes its appearance from a template, making it a very inexpensive way to establish a web presence.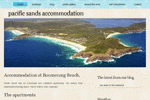 Boomerang Beach Accommodation
Accommodation website for holiday apartments in Pacific Palms, Australia. Holidaymakers who don't want to book accommodation sight-unseen can view photographs, read a little about the property, access maps and check the weather. This website integrates with a third-party online booking system.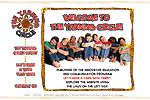 The Yarning Circle
The Yarning Circle publishes educational programs including Let's Have A Yarn With Yarn (for which the printed material was also designed by Savvy Web Design). This website offers information to prospective licensees. The website is structured to allow the flexibility to add products as the company expands.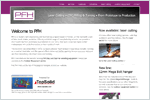 PFH Pty Ltd
PFH is a light engineering, laser cutting and toolmaking company based on the mid north coast of New South Wales. The company's web presence includes information on its range of manufacturing services, as well as its industry-leading Pitt Stop and Rap Rak abseiling gear.

Free Local Poker
This bright, busy site supported a poker tournament provider operating in the Manning, Hastings and surrounding areas of Australia. The website is now archived pending a name change for the business. When the site was working live, players could get venue and event information, and check current tournament scores. There's also a photo gallery, guestbook, rules section, and so forth. This project involved a complete redesign and reorganisation of the client's previous website, including the content. The scores database was created by Lee at Inbox8.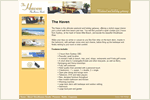 The Haven
Multi-page brochure site for an upmarket holiday rental property in Shoalhaven Heads, Australia. Holidaymakers who don't want to book accommodation sight-unseen can view full colour photographs, read a little about the property, and download maps.

Taree Invitation 5000
The Taree Invitation 5000 Classic is an established single-loft pigeon race based in Koorainghat. Enthusiasts can access the race rules, download an entry form, view news & results, and contact the organiser. Because the owner makes occasional alterations to this site, the version accessible here is an archived version faithful to the site's original appearance.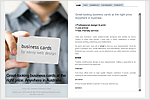 Business Cards by Savvy Web Design
Savvy Web Design also supplies graphic design and production of printed material. One of the more popular items is the ubiquitous business card. This self-contained subsection of Savvy Web Design is a brochure site focussing on business cards. It offers detailed information to prospective clients. Inexpensive websites like this are the equivalent of having a colour leaflet available on demand, 24 hours a day.
Let's get started: request a quote
Websites come in all shapes and sizes. To quote on yours, we'll need to know what you've got in mind.
What should it say? What should it do for your customers? And so forth. For many clients, the easiest way to decide on content is to think of your website like a printed document: if you were going to produce a full colour brochure to hand out to prospective customers, what would it include? You might even find it handy to rough out a plan on sheets of paper.
Don't worry about the structure or the design: we'll take care of that for you.
Once you have some idea of what you need, contact Savvy Web Design for a written quote.
WEB DESIGN | WEBSITE PORTFOLIO | DOMAINS & HOSTING | WEB FAQ | FURTHER READING