Mobile version

Magnetic Calendars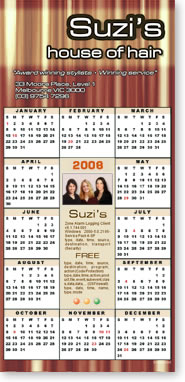 Magnetic fridge calendars in financial year or calendar year styles are a clever way to promote your business.
The calendars are DL-sized (approximately 99x210mm), printed on the front in full colour, and have a magnetic patch attached to the back.
Make them available in your shop or office, or distribute through insertion in your local newspaper. Your message can be in front of potential clients every day of the year.
Calendars can incorporate a removable business card or reward card, or can set out specific offers for certain times of year — for example, 10% discount for the month of August.
Call or email for more information and current pricing.