Mobile version

Examples:
6. Swing tags
[Examples introduction] - [1 Standard business cards] - [2 Reward cards]
[3 Appointment cards] - [4 Gift vouchers] - [5 Handbills] - [6 Swingtags]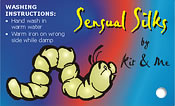 Complement your products with professional, full-colour swingtags, without committing to a run of several thousand. (Minimum run of these cards is only 1000.) Suitable for hand crafted garments, boutique fashion items, artworks, woodcrafts, and other small-batch products. The example shown is attached to hand-dyed silk scarves.
Hole-punching can be included for an extra fee, or economise by doing it yourself!
This is the final section in the sequence of various business card types. For more information, see the FAQ or Contact pages.